Fifth-grade students have an engaging new way to learn about Renaissance master Leonardo da Vinci thanks to a [website] (http://engagegeniusexcel.com) created in part by Laurie Lisonbee, a Texas A&M [visualization] (http://viz.arch.tamu.edu/) lecturer.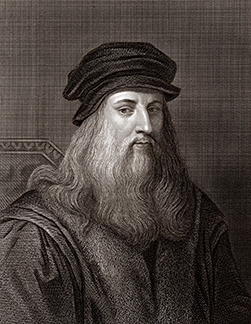 Lisonbee teamed with Utah Valley University digital media undergraduates to create a series of student-hosted, fast-paced informational videos produced onsite in Italy and France, where Leonardo lived and created enduring masterworks. The site contains additional materials including drawing activities and directions to create miniature models of the master's designs for machines and bridges.
Lisonbee traveled with UVU students to Leonardo's haunts in Florence, Milan, Paris and Amboise, France, where she provided them with background on his life and art to include in the shows' scripts.
"I also scouted the scattered, sometimes hard-to-find locations where his drawings, paintings, and sculptures are displayed so students could quickly set up their video shots," said Lisonbee, whose role in the project was funded by a [Melbern G. Glasscock Center for Humanities Research] (http://glasscock.tamu.edu/) grant.  "I coached the show's hosts and editors on correct pronunciations and spellings for the videos."
Prior to the trip, Lisonbee compiled Leonardo facts, images, and video that were posted on the project website. She also created lessons related to Leonardo's art with contributions from faculty in Texas A&M's Department of Teaching, Learning and Culture.
The videos, workbook and additional material are available to the public on the project [website] (http://engagegeniusexcel.com/) .
Lisonbee said she will promote the site to fifth-grade educators in the Brazos Valley in anticipation of the 2019 worldwide observance of the 500th anniversary of Leonardo's death.
"The project is also an ideal way to introduce local fifth graders to an interactive exhibit of Leonardo's inventions at the George H.W. Bush Library and Museum," said Lisonbee. The exhibit, " [Machines in Motion] (https://www.bush41.org/exhibits/single-exhibit?id=38) ," is on display through January 6, 2019.