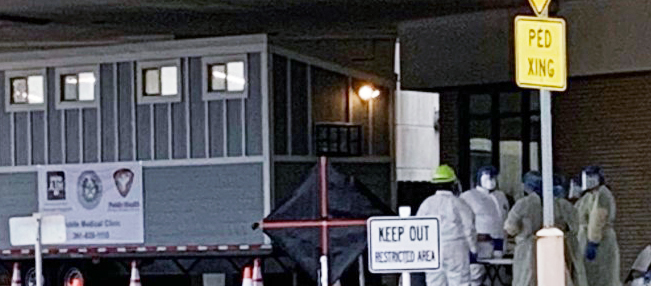 Residents in South Texas' [Nueces County] (https://www.google.com/maps/place/Nueces+County,+TX/@27.7758697,-98.0236754,9z/data=!3m1!4b1!4m5!3m4!1s0x8668f2b7e419f601:0x3f834acf2070ea12!8m2!3d27.7693351!4d-97.4814163) are receiving coronavirus tests and additional healthcare in a mobile medical clinic designed and built by Texas A&M [construction science] (http://cosc.arch.tamu.edu/) students.
The clinic was brought to Nueces County last fall in a partnership between the county and the Texas A&M [Colonias Program] (http://colonias.arch.tamu.edu/) , which serves colonias residents in South Texas and all along the 1,200-mile Texas-Mexico border. Colonias are subdivisions that often lack one or more common infrastructure elements such as electricity or running water.
"The Colonias Program is proud to be part of Nueces County's efforts to provide coronavirus testing and other healthcare services to the county's residents," said Oscar Muñoz, director of the program. "The clinic helps provide healthcare to residents who may not have the means to travel to the county's urban centers."
Tests are being administered by the Nueces County Health Department.
Students built the clinic in the fall 2016 semester at the College of Architecture's [Automated Fabrication & Design Lab] (http://fablab.arch.tamu.edu/) at the RELLIS Campus as part of a capstone class led by construction science faculty Ben Bigelow, Ben Ashburn and José Fernández Solis. Bigelow now heads the Construction Science Division at the University of Oklahoma.
"The students learned that planning a budget, creating a construction schedule, and assigning personnel for the project was more difficult than they thought," said Patrick Suermann, head of the Department of Construction Science. "When the project was done, the students could be proud, look back and say 'We built that.'"
Richard Nira
rnira@arch.tamu.edu