In an experience described by contestants as "a professional summer camp" and "the world's best and longest job interview," four Texas A&M College of Architecture undergraduates won second place last week in an elite national contest by Walt Disney Imagineering, which designs Disney theme parks, resorts, attractions, and cruise ships.
Environmental design students Kennedy Behling and Abby Zuber, and visualization majors Cecilia Gonzalez and Abby Henning rose above hundreds of contestants with a creative solution to this year's challenge: design an iconic installation in their campus or city that serves as an inspiration, honors the past and is a vision of the future.
They responded with "Here," an installation design inspired by Muster, one of many Texas A&M traditions that celebrate its rich history. The design includes a large bronze central sculpture surrounded by interactive gardens and lounging/study areas. At night, "Here" is transformed by lights into a glowing symbol of the strength and warmth of the Aggie spirit.
"We wanted to create a living memorial that respects the roots of Muster and shows the camaraderie of Aggies and how strong that bond is," said Zuber, a fourth-year student from Bryan.
"It's another place like the Memorial Student Center, where you can gather and be a part of something bigger than yourself," said Gonzalez, of Fairview, Texas.
The four women averaged 3 or four hours a day for six months on the project outside of their regular classwork. When their project was chosen for the contest's final round, the Aggie team ramped up its work by adding and improving to their project, which they presented in person to Disney executives during an all-expenses paid, weeklong trip to Disney studios in Glendale, California.
Once in California, the students met the other five finalist teams from the University of North Carolina School of the Arts, Laguna College of Art and Design, the United States Naval Academy and two groups from Savannah College of Art and Design. To their happy surprise, the groups all connected quickly.
"It didn't feel like a competition," said Henning, of Alpharetta, Ga. "We bonded with these amazing people who shared our same passions and got to nerd out about making people happy through design. Everyone was so humble and we were all winning just by being there."
After presenting on the first day to the judges, the finalists toured the Walt Disney Imagineering campus and meet for interviews with different departments and Imagineers.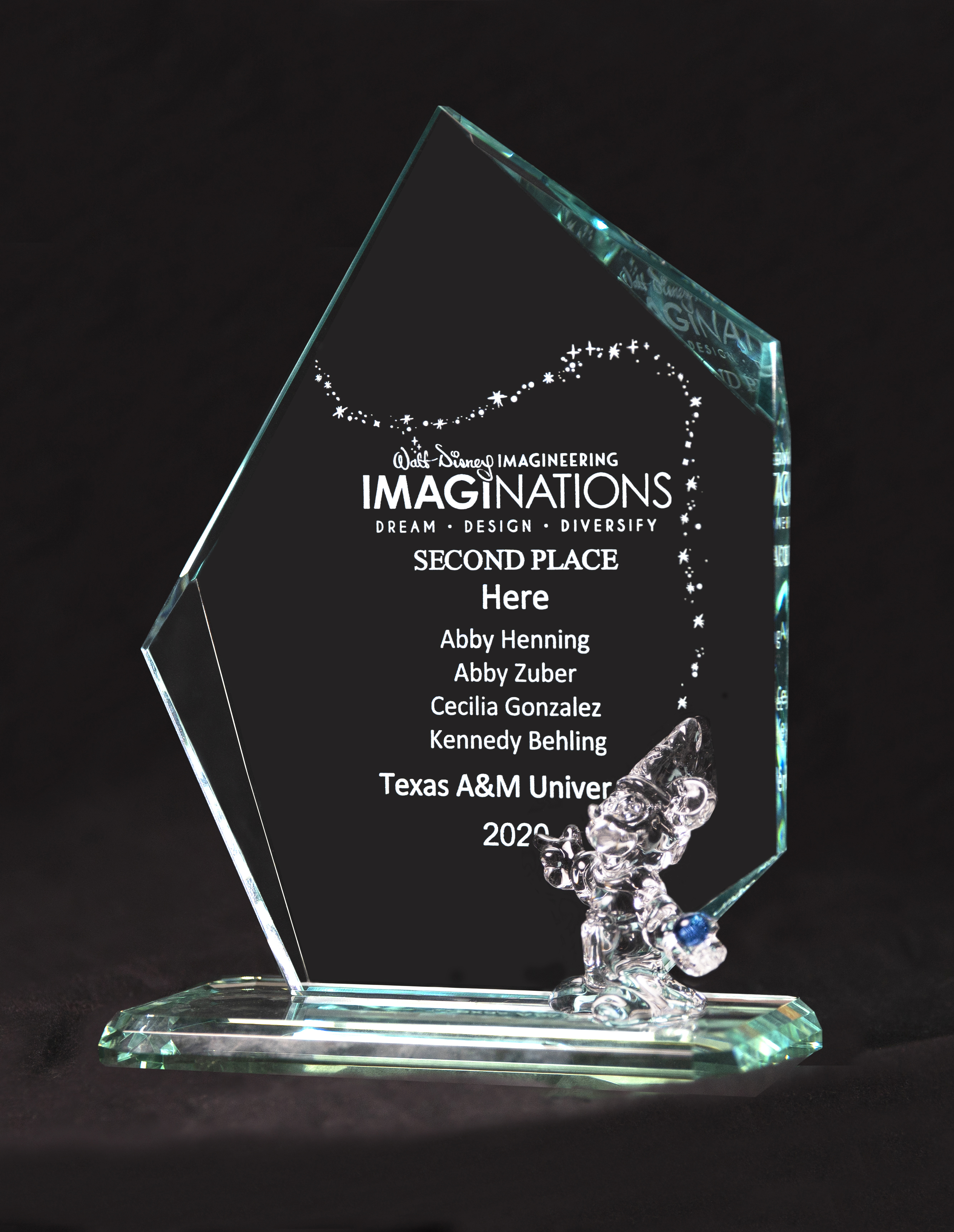 "It was incredible to see such a collaborative and creative culture," said Zuber. "Everyone was so creative and kind."
Gonzalez said execs told them Disney considers the competition finals as a week-long interview process to identify talented students, recruit them to Disney internships and jobs, and identify possible matches with Disney creative teams.
"The best part was I didn't feel like I had to prove myself," said Zuber of the many interviews. "They had already seen our work and it was more about where we might fit in."
Kennedy Behling of New Braunfels, Texas accepted a Disney internship before the team advanced to finals, but the other three women have follow-up interviews scheduled.
"They made us feel like we were valued and that we belonged," said Gonzalez. "We also got to go to Disneyland for the day and go on behind-the-scenes tours."
Later in the week, the teams presented their projects again, for any Disney Imagineers who wanted to attend.
Several former students who now work at Disney attended the presentation, and in Aggie tradition cheered the women on with whoops and yells.
"It was incredible to get that support," said Gonzalez. "Talking to them after, they spoke of how proud they were to see Texas A&M up there and that our passion was obvious."
Their fellow finalists also got some Aggie education while hanging out with the quartet.
"On the last day we led a yell practice," said Zuber. "They were not ready for that, but everyone ended up whooping."
While the Naval Academy students ended up taking home first place, the team wasn't disappointed.
"Even just having Imaginations finalist on our resume is very cool and it's respected within the industry," Zuber said. "This opens a lot of doors for us."
Sarah Wilson
swilson@arch.tamu.edu