Seven former students from the Texas A&M College of Architecture who have risen to the top of their respective fields while making significant public service contributions were honored as outstanding alumni during a Friday, Oct. 14, 2016 banquet at [Traditions Club] (https://www.google.com/maps/place/Traditions+Club/@30.6056255,-96.3953303,15z/data=!4m5!3m4!1s0x864681a555555555:0x2831ec0384a6327!8m2!3d30.6056255!4d-96.3865702) in Bryan.
The group was nominated by former students and selected for their outstanding achievements by a college committee.
Less than one percent of the college's 15,000-plus former students have been recognized as outstanding alumni, the highest honor bestowed by the college to former students.
The 2016 College of Architecture Outstanding Alumni are: Jean-Claude Kalache '93, director of photography, [Pixar Animation Studios] (http://www.pixar.com) ; Gordon Landreth '67, senior architect, [CLK Architects & Associates] (http://www.clkarch.com) ; Merrie Talley '75, founding principal, [Talley Landscape Architects Inc] (http://www.talleyla.com/cgi-bin/homepage) .; Kirk Teske '83, chief operating officer, [HKS, Inc] (http://www.hksinc.com) . ; Karl Von Bieberstein '70, principal, [RVi] (http://www.rviplanning.com) ; Gary Hall '84, senior vice president, [Project Control] (http://projectcontrol.com) , and Greg McClure '90, vice president of sports development, [Manhattan Construction] (http://www.manhattanconstructiongroup.com/manhattan-construction) .
Jean-Claude Kalache '93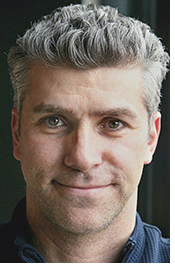 Jean-Claude Kalache, who earned a [Bachelor of Environmental Design] (http://dept.arch.tamu.edu/undergraduate/) degree in 1993 and a [Master of Science in Visualization] (http://viz.arch.tamu.edu/graduate/ms-viz-curriculum/) degree in 1997, is a director of photography at Pixar Animation Studios, which creates critically acclaimed animated feature and short films.
He played a major role in delivering the quality of images seen in numerous Pixar hits, including "Up," which earned an Oscar in 2010 for Best Animated Feature and earned a Best Picture nomination, "Toy Story 2," "Monsters University," and "Cars," and is working on "Toy Story 4," scheduled for a 2018 release.
"He leads teams of artists and technicians who execute a film's director's vision," said Tim McLaughlin, head of the [Department of Visualization] (http://viz.arch.tamu.edu) , in a nomination letter. "It's both an artistic and technical task. He acts as a painter by depicting mood and character through the use of color and intensity, and as a technician by directing his crew through the language and tools of computer graphics."
Kalache is relentless in his efforts to improve animation techniques at Pixar, said Sharon Calahan, a fellow director of photography at the studio.
"His love of pushing technology's boundaries elevate what we achieve in a very visual and tangible manner," she said. "Although his pioneering ideas have enjoyed exceptional longevity, he is never satisfied with plateaus. He's always looking far into the future to anticipate the next trends in animation."
Gordon Landreth '67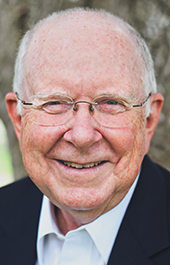 Gordon Landreth , who earned a Bachelor of Architecture degree in 1968, is a semi-retired founding partner at CLK Architects & Associates in Corpus Christi, Texas.
In 40 years of practice, Landreth's designs have significantly contributed to the architectural fabric of South Texas, said [James Kirkpatrick] (http://www.arch.tamu.edu/community/formerstudents/outstanding-alumni/past-honorees/149/) '67, founder of [Kirkpatrick Architecture] (http://www.k-a-studio.com) studio.
Among his notable projects are the [Performing Arts Center] (http://pac.tamucc.edu) at Texas A&M-Corpus Christi, expansion of the local Christus Spohn Health System, and the [memorial] (https://en.wikipedia.org/wiki/Mirador_de_la_Flor) to the late Tejano singer Selena.
"Landreth is also well known for his tireless work to improve Corpus Christi's bayfront by leading an important dialogue between citizens and community leaders, which resulted in a plan to establish two miles of greenbelt on the shore and move traffic away from the waterfront," said Kirkpatrick, an Outstanding Alumnus of the College of Architecture.
As chairman of the [Texas Board of Architectural Examiners] (http://www.tbae.state.tx.us) from 2004-2008, Landreth helped resolve a decades-long impasse among architects and engineers regarding which profession's members should perform certain building design tasks.
"His efforts set in motion a process that eventually led to a 2011 bill, signed by Texas Governor Rick Perry, that laid to rest the ongoing dispute between the professions and allowed Texas architects to fully reclaim their role in the design and construction industry," said Kirkpatrick.
During his term on the board, Landreth shortened the time required for young architects to fully enter the profession by accelerating the licensure process in Texas, reducing architecture's losses to other creative fields.
As a member of a [National Council of Architectural Registration Boards] (http://www.ncarb.org) task force, Landreth helped spread the accelerated licensure concept nationally, "a significant improvement for young architects across the country," said Kirkpatrick.
Merrie Talley '75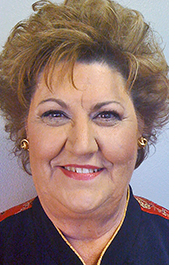 Merrie Talley, who earned a [Bachelor of Landscape Architecture] (http://laup.arch.tamu.edu/academics/undergraduate/bla/) degree in 1975, is the founding principal of Talley Landscape Architects Inc.
Talley, who has headed numerous, landmark projects throughout the Houston area, is a pioneer in her field whose career has been marked by innovation, enthusiasm, service, and fearlessness, said Michael Murphy, retired professor of landscape architecture, in a nomination letter.
"She has created ecologically based designs and management strategies for numerous park and municipal utility developments that have set new standards for regenerative, sustainable urban watersheds and land management," said Murphy.
One of her most celebrated projects, [Mandolin Gardens Park] (http://www.chron.com/cyfair/news/article/Architect-had-vision-of-more-than-jogging-trail-4554527.php) in northwest Harris County, transformed a muddy detention pond into a picturesque pond and ecosystem that earned awards from the Texas Forest Service, Texas Recreation and Park Society, and many others.
As landscape architect from 1975-80 for the University of Houston System during a period of rapid expansion, Talley oversaw master planning for the UH central campus and the planning and site development of the 524-acre UH-Clear Lake campus.
As the projects coordinator for the city of Houston Parks Board from 1991-98, Talley managed the design and installation of more than 25 neighborhood parks and playgrounds and led the renovation of the city's Memorial Park Golf Club.
She also holds a towering legacy in landscape architecture education at Texas A&M. One of the first women to enroll in the university's landscape architecture program, she helped found Aggie Workshop , where students team with practitioners from across Texas in a daylong series of design charrettes, panel discussions and lectures.
Talley and her then fellow students organized the event because traveling to visit practitioners, who at the time were concentrated in Texas' metro areas, was difficult.
"Workshop was not just a success, it became a departmental tradition that has continued for more than 40 years," said Murphy.
Her contributions to the college continue as a member of the Landscape Architecture Advisory Board and a champion of the development of the university's [Soltis Center for Resesarch and Education] (http://archcomm.arch.tamu.edu/archive/news/spring2009/stories/costa_rica_facility.html) in Costa Rica.
Kirk Teske '83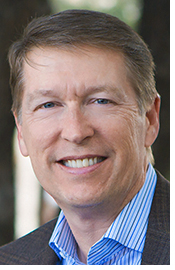 Kirk Teske, who earned a Bachelor of Environmental Design degree in 1983, is chief operating officer at HKS, Inc.
He led the development of several of the sustainable design movement's earliest and most newsworthy projects and some of the largest sustainably-designed buildings in the world.
One of the projects, the Sabre Corporate Campus in Southlake, Texas, is the state's first "green" building, the first registered under the [Leadership in Energy and Environmental Design] (http://leed.usgbc.org/leed.html?gclid=CO-O5eid080CFQQQaQodGrUGcA) Green Building Rating System and the first facility in North Texas to achieve LEED Silver Certification.
The building also made "green" design part of the public vernacular in North Texas through extensive media coverage, numerous public tours and conference presentations.
The 150-acre campus hosts 480,000 square feet of office space, a storm water reservoir that provides all the water necessary to irrigate the campus' organic landscaping, newly created wetlands, one of the first [Energy Star] (https://www.energystar.gov) -compliant roof coating systems, walking and bike trials.
Additional, Teske-led "green" developments followed, including a [corporate campus] (http://www.hksinc.com/places/radioshack-riverfront-campus/) for Radio Shack in a formerly blighted Fort Worth riverfront site, [CityCenter] (http://www.archdaily.com/50724/city-center-las-vegas-6-leed-gold-certifications) , in Las Vegas, which set a standard for environmentally responsible, large-scale developments, and Apogee Stadium on the University of North Texas campus, the globe's first LEED Platinum collegiate athletic facility.
"He has helped to forever change how design is done in the region," said Jill Jordan, city of Dallas assistant city manager.
He has also championed "green" design in meetings with state and federal legislators and representatives of municipalities, school districts and universities.
Teske also transforms the built environment as president of the Dallas AIA chapter, founding chairman of the USGBC [North Texas chapter] (http://www.usgbcnorthtexas.org) and a board member of [Earth Day Texas] (http://earthdaytx.org) . Among his many honors and recognitions include elevation to [LEED Fellow] (http://www.usgbc.org/articles/learn-how-become-leed-fellow) , USGBC's most prestigious designation. In 2015, he was elevated to the AIA's [College of Fellows] (http://network.aia.org/cof/home) for achieving a standard of excellence in the architecture profession and for significant contributions to architecture and society.
Karl Von Bieberstein '70
Karl Von Bieberstein, who earned a Bachelor of Science in Landscape Architecture in 1970, is a principal at [RVi] (http://www.rviplanning.com) , a regional design firm widely recognized for its creative contributions to land use analysis, community planning, and outdoor space design.
During his 45-year career, Von Bieberstein has established a distinguished design record, said Michael Murphy, retired professor of landscape architecture, in a nomination letter.
His landscape designs enhance many Dallas-Fort Worth Metroplex locations, including Texas Christian University, Southern Methodist University, the University of Texas at Arlington, corporate campuses for Federal Express and May Kay and numerous civic projects, including Dallas' city hall and public library, Veterans Memorial Plaza in McKinney and several parks in Richardson.
From 1974 – 1979 he served as senior landscape architect for the Dallas Park Department, overseeing development of the centennial master plan for the Old City Park Heritage Museum.
As head of the [Texas chapter] (http://www.texasasla.org/) of the American Society of Landscape Architects in the late 1970s and early 80s, Von Bieberstein reversed flagging attendance at annual meetings by revising the group's meeting format and location.
He also introduced lobbying initiatives in the state legislature, new student award programs, and communications efforts focused on enhancing the profession's public stature.
Von Bieberstein enhanced landscape architecture education across the country as a visiting evaluator with the [Landscape Architectural Accreditation Board] (https://www.asla.org/accreditationlaab.aspx) in the 80s, advising educators during campus visits and challenging graduates to exceed professional expectations.
He has also served on professional advisory boards for landscape architecture programs at Oklahoma State University, where he received the program's Distinguished Service Award in 2003, University of Texas at Arlington, and at Texas A&M University, where he is currently board chairman.
Gary Hall ' 84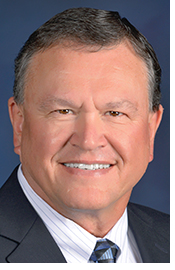 Gary Hall, who earned a Bachelor of Building Construction degree in 1984 and is senior vice president at Project Control, was project director of the 21-month redevelopment of Kyle Field, the largest collegiate athletic construction project in history, completed on time, below its $485 million budget and without interrupting the Aggies' home football schedule.
He helped lead a team of thousands of workers facing a seemingly impossible completion schedule, achieved an unmatched level of distinguished accomplishment, created an iconic building and demonstrated to the world the value of the education he received at Texas A&M, said Joe Horlen, head of the Department of Construction Science, in a nomination letter for Hall and fellow Outstanding Alumnus and Kyle Field project leader Greg McClure '90, who will also be recognized at the Oct. 14 banquet.
Hall has also led construction of arenas for professional sports teams, new buildings and renovations at Rice University, and buildings for nonprofit groups including the Houston Food Bank and the Asia Society of Texas.
These and many additional projects were marked by Hall's tireless commitment, professionalism and ability to unite a team, said Lisa Ritter '14, a project manager at Project Control, in an Outstanding Alumni nomination letter.
"I believe the greatest testament to his leadership is the respect he is given by people who work for him and with him. That is certainly parallel to the respect he gives others," she said.
Hall has also aided the Department of Construction Science's curriculum development and fund raising as a past member of its [Construction Industry Advisory Council] (http://cosc.arch.tamu.edu/industry/membership/) .
Greg McClure ' 90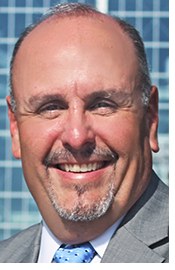 Greg McClure, who earned a Bachelor of Building Construction degree in 1990, is vice president of sports development at Manhattan Construction, the firm that served as general contractor for the landmark Kyle Field development.
McClure and Hall are examples of the industry heights that former Texas A&M construction science students can reach, said Joe Horlen, head of the Department of Construction Science in a nomination letter. "Their resumes are displays of excellence, consisting of one notable achievement and great distinction after another," he said.
Despite the Kyle Field project's breakneck schedule, said Horlen, McClure, and fellow Outstanding Alumnus Gary Hall somehow found time to visit construction science classes to discuss industry careers with students.
"McClure has passed along many words of wisdom regarding project estimating," said Lisa Cantrell '85, a project coordinator with St. Joseph Health System, in an Outstanding Alumnus nomination letter.
He has played a leading role in more than $3.5 billion in construction projects which have earned more than 30 industry awards and honors, including renovations at Dallas/Fort Worth International Airport, construction of the George W. Bush Presidential Center, Apogee Stadium at the University of North Texas, and numerous other projects.
In addition to serving the Department of Construction Science as a CIAC member and guest lecturer, McClure also leads projects with the [Dallas Area Chapter] (http://www.heartsandhammers-dallas.org) of Hearts and Hammers, which refurbishes homes owned by low-income residents, and is also a board member of several organizations that strive to increase minority contractor project participation.
He is a sought-after speaker and panelist at construction conferences, is a certified professional estimator, LEED accredited professional, and past CIAC member.