A new book of classic and contemporary writings illustrating key themes shaping the theory and practice of ecological design and planning, compiled by Forster Ndubisi, head of Texas A&M's [Department of Landscape Architecture and Urban Planning] (http://laup.arch.tamu.edu) , will be available in early December 2014.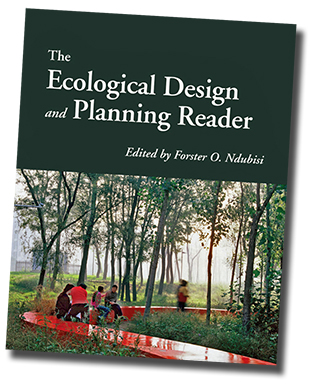 " [The Ecological Design and Planning Reader] (http://www.barnesandnoble.com/w/the-ecological-design-and-planning-reader-forster-o-ndubisi/1119405096?cm_mmc=googlepla-_-book_45up-_-q000000633-_-9781610914901&ean=9781610914901&isbn=9781610914901&r=1) ," a collection of scholarly works including theory, methods and exemplary practice, spans 150 years, from Henry David Thoreau's " [Walden 1854] (http://etc.usf.edu/lit2go/90/walden-or-life-in-the-woods/) " to an investigation of ecological planning in The Woodlands, Texas.
"The collection provides students, scholars, researchers and practitioners with a solid foundation for understanding the relationship between human systems and the natural environment," states the book's publisher, Island Press. "Concerted efforts to balance human use with ecological concerns are needed now more than ever, as humanity experiences rapid global urbanization, with intensified pressures on the natural environment to accommodate people's daily needs for food, work, shelter and recreation."
Ndubisi concludes the collection with a hopeful look forward, suggesting an agenda for future research and analysis in the field.
He has also penned ["Ecological Planning: A Historical and Comparative Synthesis,"] (http://www.amazon.com/Ecological-Planning-Historical-Comparative-Contemporary-ebook/dp/B006GPCSD0/ref=la_B001KML524_1_1?s=books&ie=UTF8&qid=1412366926&sr=1-1) ["Planning Implementation Tools and Techniques: A Resource Book for Local Governments"] (http://www.amazon.com/Planning-Implementation-Tools-Techniques-Governments/dp/0911847049/ref=la_B001KML524_1_2?s=books&ie=UTF8&qid=1412366956&sr=1-2) and "Public Policy and Land Use in Georgia: A Concise Reference Book."
In addition to specializing in ecological design and planning, Ndubisi also focuses on community design, growth management and interdisciplinary design education.
He earned a Ph.D. in Regional Planning & Resource Development at the University of Waterloo in 1987, a Master of Landscape Architecture from the University of Guelph in 1982 and a Bachelor of Science in Zoology/Ecology at the University of Ibadan in 1977.