" [Come Hell or High Water: The Battle for Turkey Creek] (http://leahmahan.com/comehellorhighwater/) ," a documentary chronicling a decade-long struggle of African-Americans in Gulfport, Miss. to stop a land development project that threatened their historic neighborhood, will be screened at 5 p.m., Wednesday, Oct. 22, in Evans Library Annex 417D as part of Texas A&M's 2014 [Sustainability Day] (http://sustainability.tamu.edu/campus-sustainability-day.aspx) .
In addition to the film, Sustainability Day, slated 10 a.m. – 2 p.m. on Rudder Plaza, will feature more than 20 educational booths promoting environmental stewardship.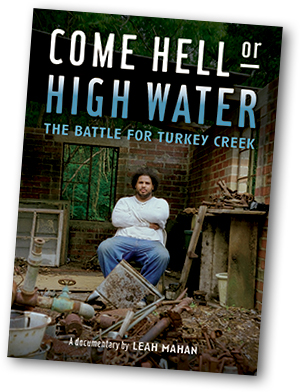 After the documentary screening, Derrick Evans, the film's protagonist, will be on hand to answer questions about his successful effort to thwart the development of wetlands that protected his ancestral community from flooding.
Then on Thursday, Oct. 23, a panel discussion on environmental justice featuring Houston area activists and campus experts will be held at 2 p.m. in Room 2406 at the Memorial Student Center.
"Come Hell or High Water" depicts Evans' transformation from archivist to activist, as he works with community members to enlist allies, including the U.S. Environmental Protection Agency, the Sierra Club, the Audubon Society and other groups, in his battle to stop a popular development project that was backed by Gulfport politicians who believed it would bring jobs to the area.
Sponsors of the "Turkey Creek" screening include the [Office of the Vice President & Associate Provost for Diversity] (http://diversity.tamu.edu/) , the [Department of Landscape Architecture and Urban Planning] (http://laup.arch.tamu.edu/) , the [Center for Housing & Urban Development] (http://chud.arch.tamu.edu/) , the [Hazard Reduction & Recovery Center] (http://hrrc.arch.tamu.edu/) and others.
Campus Sustainability Day is held annually to showcase the importance of preserving the environment for future generations — assuring that the planet's inhabitants have and will continue to have, the water, air and resources needed to protect their health and environment.
"Everything that we need for our survival and well-being depends, either directly or indirectly, on our natural environment," reads a sustainability [primer] (http://www.epa.gov/sustainability/basicinfo.htm#sustainability) on the [Environmental Protection Agency] (http://www.epa.gov/sustainability/) website. "Sustainability creates and maintains the conditions under which humans and nature can exist in productive harmony, and that permit fulfilling social, economic and other requirements of present and future generations."
For more information, contact Jaimie Hicks Masterson, JMasterson@arch.tamu.edu , or 979.458.1295.