Hundreds of intricately carved elements, created with patience and artistry over thousands of hours, created a permanent legacy: a 4'x3' walnut and mahogany wood relief sculpture honoring the 125 th anniversary of the Fightin' Texas Aggie Band. The panel was crafted by Mikeual Perritt '69, a former College of Architecture student and band member.
Displayed proudly and prominently behind protective glass in the new Texas A&M Music Activities Center, the sculpture showcases historical aspects of the band, personal experiences shared by its members. It contains hundreds of marching band members in its world-famous halftime block T formation, ornate shields and insignia throughout the band's history, and thousands of hand-carved letters telling its story.
Perritt started woodworking in his childhood, making little wood boats to float down a stream near his home. In the 1980s, he started making cutting festive designs into blocks, then inking and printing his own Christmas cards.
"It evolved from flat wood blocks into adding relief and some small full figure carvings," Perritt said. "I eventually got rid of the ink and started to do the embossing only."
Inspired by masters
A long-time admirer of the Centennial Wood Carvings, six massive ornamental panels in the Memorial Student Center showcasing the history of Texas A&M created by Rodney Hill, legendary design professor and artist and his wife Sue, Perritt pitched a similar project to his former bandmates to document the organization's history.
"The plan was not always for me to do the panel," Perritt said. "The best of the best would be Rodney and Sue, and we wanted them to do it. Rodney's panels are some of the best, most artistic and historically representative pieces of art I've ever seen."
But a health issue caused Hill, who has taught at the College of Architecture for 50 years, to bow out of the project.
Lead change
Perritt, who had originally agreed to do some of the border carving work, found himself in charge of the entire project.
"I felt prepared as I've done sculpture, but I'd never attempted anything even close to the scale of this project before," he said.
After researching the band's history and crowdsourcing design ideas from his class and other band members, the design was finalized in 2015, the frame assembled in 2016, and carving began in June 2017.
Perritt spent 18 months working 8.5-11 hours a day, 7 days a week with "very few exceptions." He estimates the time spent on the carving alone to be "easily more than 5,000 hours over two years."
"There were days where I thought it would never end, but you get past those things," Perritt said. "There were some days I was wondering why I got into this, but that's part of being human. You have to mentally overcome and move on."
He said support from the Hills, which included calls, texts, emails and advising from photos, kept him going.
"They could have easily walked away from it, but I got so much support from them," said Perritt. "It was like having a godfather sitting over you, telling you what you're doing wrong and right and helping you through it. They are very dear friends and really the inspiration for the project."
An uneasy art
Hill said it's difficult for nonwoodcarvers to conceive of the time and effort it takes to create this kind of art.
"It's not like watercolor or oils," he said. "It's digging a 16 th inch by 16 th inch every day, all day for years. I've offered students a summer woodcarving class upon their request over the years, but no one has ever finished a project. It just takes so much time. It's why you don't see many woodcarvers."
The couple's contribution and influence are acknowledged with an etching: "This relief sculpture inspired by Rodney and Sue Hill," carved into an inset wood piece in the lower center of the panel.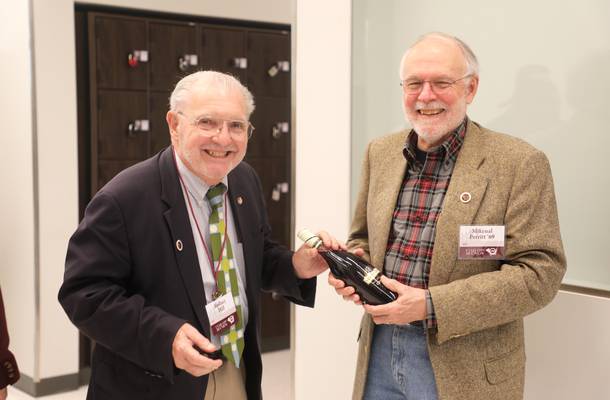 Well suited
The mutual respect between the carvers is strong. Rodney describes Perritt's work as "truly great" and that he is a "very precise person who is well suited for the work."
"Carving the band in formation, that many members that close together in that shallow of a format – I would think it would be impossible, but he did it," said Hill. "Creating an illusion of depth of that many people in a tight pattern is incredibly challenging."
Perritt said both his shallower style of carving and Rodney's deeper, more 3D carvings have their own inherent challenges.
"It's very delicate work," he said. "I'd lose pieces of bugles and use the type of magnifying glasses that jewelers use to save pieces that broke off. If you breathed, it would fly away and you'd never find it again."
He finished it one day before the project had to be shipped off for installation, breathing a giant sigh of relief and getting a welcome break.
Legacy
In recognition of Perritt's work, a new scholarship for Aggie band members was created in and Mikeual and Laura's names, and presented to the couple at the building's grand opening and the unveiling of the sculpture.
Mikeual has already committed to doing two side panels which will list former band directors and leaders, with space to add to it over time. He is also already working on a book outlining the journey of making the sculpture and researching the band's history. The book's profits will benefit the [Texas Aggie Band Association.] (https://corpsofcadets.org/texas-aggie-band-association)
Sarah Wilson
swilson@arch.tamu.edu